Andrés Agredo, December 15th, 2017
CFTC Commitment of Traders:
Managed Money (red line) closed the week of December 05 to December 12, with a net variation of -16,450 contracts to reach a net short position of -52,246 contracts.
The March'18 contract (green line) closed in the week in mention with a variation of -8.95 cents (-7.03%):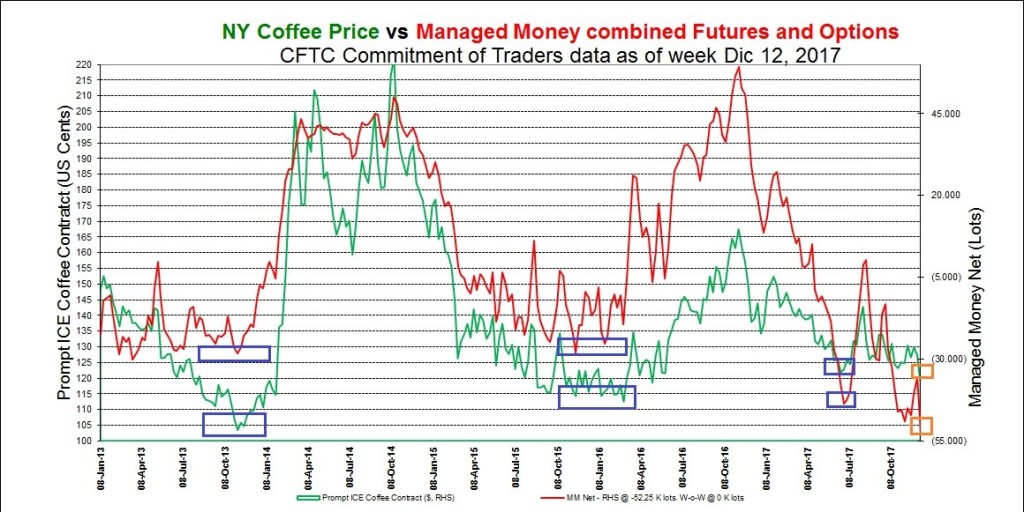 Commercials (red line) closed the week with a net variation of +15,376 contracts to close with a net position of -273 contracts: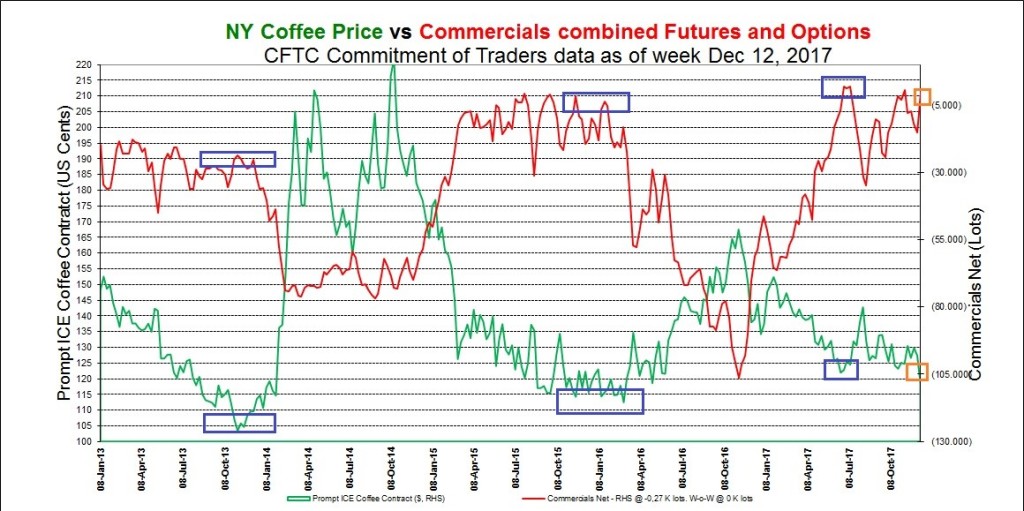 Important notes:
1. On a week strongly bearish for the price, Specs increased their net short position to reach new record level, which clearly explains the fall in the price. Although the fact of being so "short" is not a guarantee that the price can't go down any more, it does turn on the alarms for a potential short covering rally in the event that there are increases in the price that motivate a sudden exit of these positions.
2. Commercials also increased their Net Long position to levels close to the previous record, which indicates that many roasters see current levels as low and attractive to set the price of the coffee they will need in the future, fearing potential price increases.
3. As we see in the boxes, these extreme levels of short specs and long commercials in the past have coincided with levels where the price has changed the trend from bearish to bullish, which motivates us to think that we are currently very close to see a definitive change of trend.
Green Coffee Report:
GCA inventories fell for the fourth consecutive month, -297,527 bags during the month of November to close at 6'737,486 bags as of November 30. Although this level remains at record levels since the mid-1990s, the recent monthly reductions continue to confirm the slowdown in global exports, which, together with an environment of inventory reduction, gives the participants less and less reasons to continue its bearish bets on prices and to think about an increasingly imminent change of trend, from a fundamental point of view.
US Dollar:
The Dollar against the Brazilian Real (USD / BRL yellow line), after a strong start of the month, could not overcome the ceiling of 3.33 and ending the week showed again weakness and a possible continuation of the bearish trend that took place during almost all November .
This, together with the recent weakness of the Dollar against the Colombian Peso (USD / COP blue line), should continue to support the price of coffee on the New York Stock Exchange (brown line) in the short term, making exports less attractive from these countries.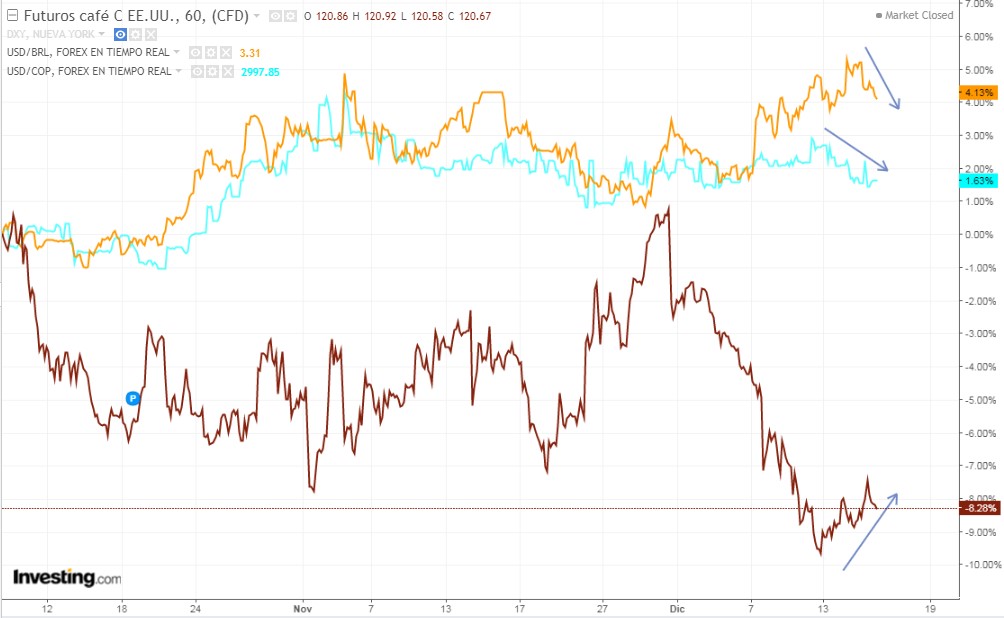 Options Implied Volatility:
Since December 7th, although the price of the C Contract had continued to decline (lower graph), the Implied Volatility of Options (upper chart, blue line) has been increasing, which is one of my favorite indicators that the market has started to get nervous, participants have started to buy "protections" and therefore, the downtrend is close to reach its end.
This pattern of behavior is seen in the green boxes, when the price experienced a significant change from bearish to bullish trend (December 2016, June 2017 and August 2017), in orange box the current situation December 2017: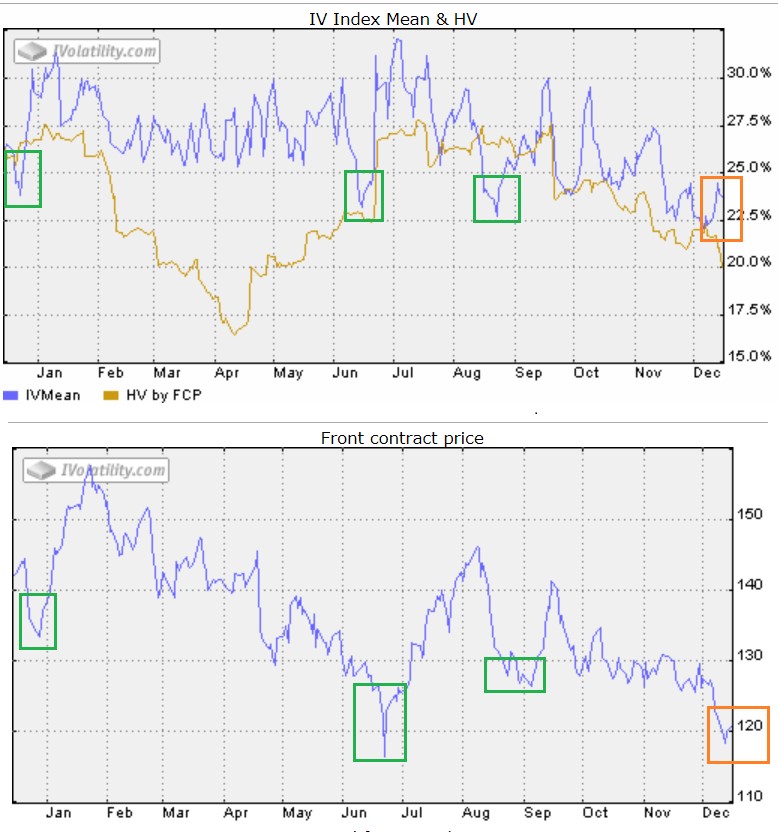 Technical Analysis:
Another of my favorite indicators of a potential change of direction in the price is when there are days with trading volumes above the average, just at the end of an extended route. This is known as "culminating volume".
As seen in this chart of the C Contract of December' 2018, when it has been presented in the past, it has followed rebounds in the price. In the last 7 days, in 4 of them "culminating volumes" have taken place, which gives me to think about an imminent rebound in the coming days: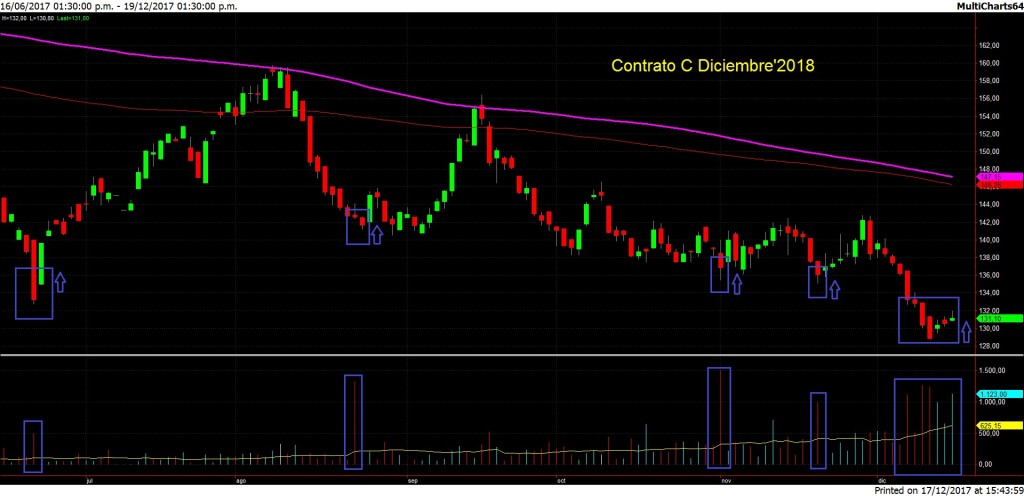 Price Seasonality:
In my opinion, this coming week the price could experience a rebound, although the most significant rally -if happens- could occur either in late January or early March, when the market will have a better estimate of the Brazilian crop of 2018 and will begin to look at the 2019 crop, which will be an "off" year, when production is generally lower: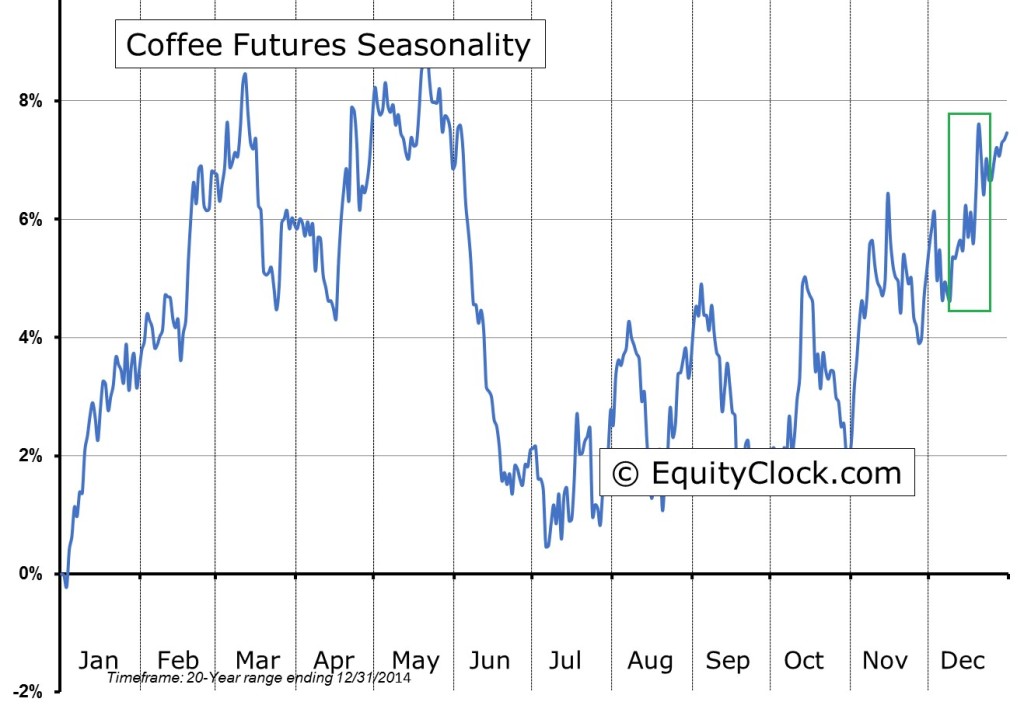 Summary:
I see current levels of $ 1.20 – $ 1.21 as attractive to buy with targets at $ 1.31 and $ 1.35 for the March'18 maturity. Although I do not rule out possible visits to the area of ​​$ 1.19 – $ 1.1950 in the coming days, if presented, they would be buying opportunities at even more attractive levels than the current one.
In the current environment of relatively low Implied Volatility of Options, I see even more favorable strategies that involve the purchase of Options, since in my opinion, they are relatively cheap.
Happy week!
Cafe Trading Advisors / Commodity Trading Advisor, NFA Member.
Disclaimer: Past performance is not necessarily indicative of future results. This material should be construed as market commentary, merely observing economic, political and/or market conditions, and not intended to refer to any particular trading strategy, promotional element or quality of service provided by Cafe Trading Advisors. Cafe Trading Advisors is not responsible for any redistribution of this material by third parties, or any trading decisions taken by persons not intended to view this material. Information contained herein was obtained from sources believed to be reliable, but is not guaranteed as to its accuracy. The risk of loss in trading commodity interests can be substantial. You should therefore carefully consider whether such trading is suitable for you in light of your financial condition. This material is for informational purposes only and should not be construed as an offer or solicitation to buy or sell securities or commodity futures. Information herein is intended for use only by persons and entities that are "Qualified Eligible Persons" as defined in the Commodity Futures Trading Commision Regulation 4.7.