Andrés Agredo, January 15th, 2018
Key points:
The New York March'18 contract has reached my first target of $1.31 after having bought at the levels of $1.20 – $1.21, as indicated in the report of December 15th, 2017.
After a downward correction to the level of $1.2090, I see the current levels of $1.22 – $1.23 as attractive to buy again. I keep my second target of $1.35, but I will add a third target at $1.41 to distribute the profit taking between both levels. I will apply a protective stop loss if there is daily close below $1.20.
Technically, the market shows how the long-term bearish trend is exhausting. At last Friday's close, the market recovered much of the fall forming a "bottoming tail" with a "culminating volume" above the average, which indicates that the downward correction is probably over. The next bullish wave could be even stronger than the previous wave that brought the price up to the $1.31 level. I think the price could reach even $1.41 or higher in the coming weeks.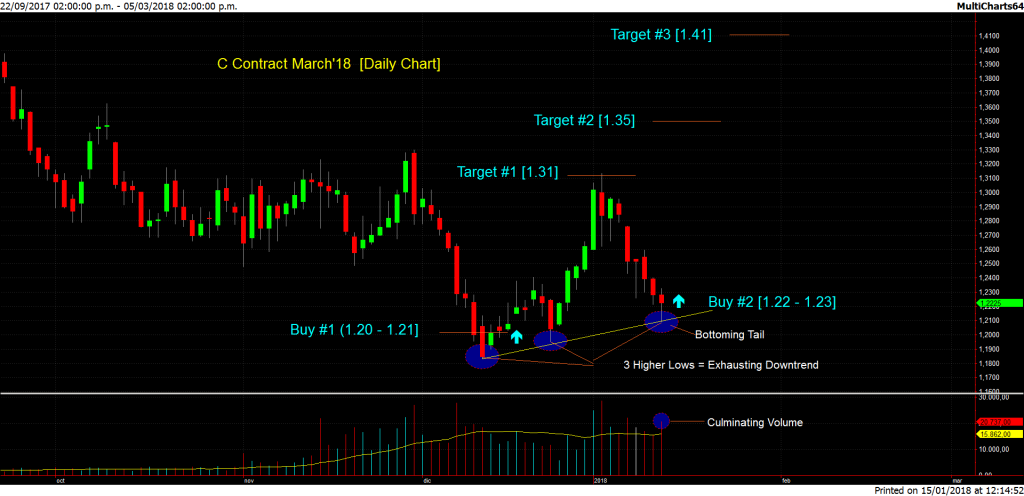 Fundamental Analysis:
Managed Money funds reached their second consecutive week of shorts covering and closed in 39,993 net short contracts, which is still a high number that can support rallies of up to 20 cents per pound.
Global coffee inventories are relatively low, and the first Brazilian crop forecasts 2018/2019 are not high enough to replenish inventories or to provide a significant reserve for the 2019/2020 crop, which will be again an "off" year. Brazil's weather is once again the focus of attention, as some models foresee rainfall deficit again for the next few days, a stage that is still crucial for crop development.
There are talks in Colombia about a potential reduction in the mitaca harvest (April-May) due to adverse weather conditions that have not favored flowering. Some producers are "concerned" about the high number of production reported in December by the "Colombian Growers Federation". Some are still wondering where did that coffee come from. On the week from 02 – 09 January, the fall in price came mainly from commercial selling as speculators reduced their net short position. The number of contracts sold by commercials during the week is very close to the amount of Colombian coffee production reported in December by the Federation on January 3rd, 2018.
Conclusion: Let's recall that we are coming from levels close to $1.80 in November 2016. Current levels close to $1.20 imply that the market has already "priced" a plentiful global crop in 2018. Any "disappointment" in the real data should be translated into increases in prices, which could be exacerbated by the short covering of speculators.
Happy week!
Cafe Trading Advisors / Commodity Trading Advisor, NFA Member.
Disclaimer: Past performance is not necessarily indicative of future results. This material should be construed as market commentary, merely observing economic, political and/or market conditions, and not intended to refer to any particular trading strategy, promotional element or quality of service provided by Cafe Trading Advisors. Cafe Trading Advisors is not responsible for any redistribution of this material by third parties, or any trading decisions taken by persons not intended to view this material. Information contained herein was obtained from sources believed to be reliable, but is not guaranteed as to its accuracy. The risk of loss in trading commodity interests can be substantial. You should therefore carefully consider whether such trading is suitable for you in light of your financial condition. This material is for informational purposes only and should not be construed as an offer or solicitation to buy or sell securities or commodity futures. Information herein is intended for use only by persons and entities that are "Qualified Eligible Persons" as defined in the Commodity Futures Trading Commision Regulation 4.7.