Inventories and Emerging Currencies Impact on Coffee Prices
In our last update, we mentioned that dry weather and parched conditions in Colombia have lead to a lower quality of beans, which finally translates into less deriverable Arabica coffee "C" contract after threashing (trilla), because of the poor yield (you need more kilograms of pergamin coffee to get the same 70 kilograms-bag of excelso coffee).
Let's update the state of the crop:
Low quality beans ("pasilla") has doubled in Risaralda Department. Broca levels are above 10%, while normal levels had been 4% – 5%. There are even areas reaching 45% in that key producing Colombian department.
As "pasilla" beans generally don't meet the quality standards of ICE "C" deliverable contract, before yesterday, those were penalized and not fully paid to growers. But actual levels of these low quality beans are so high among the country due to the intense summer, that from yesterday forward, Colombian Coffee Growers Federation (FNC) will pay coffee growers for 100% of "pasilla" beans value, in order to protect their income.
There are coffee growers whom are abandoning their farms in Antioquia and Risaralda Departments, because of the low profitability. About 70% – 80% of the April-May coffee crop will be lost in Santuario, key coffee producing city in Antioquia Department. Some of them say that Colombian Government is not fulfilling its promises and aids provided by Colombian Coffee Growers Federation (FNC) are not enough.
Let's talk about inventories: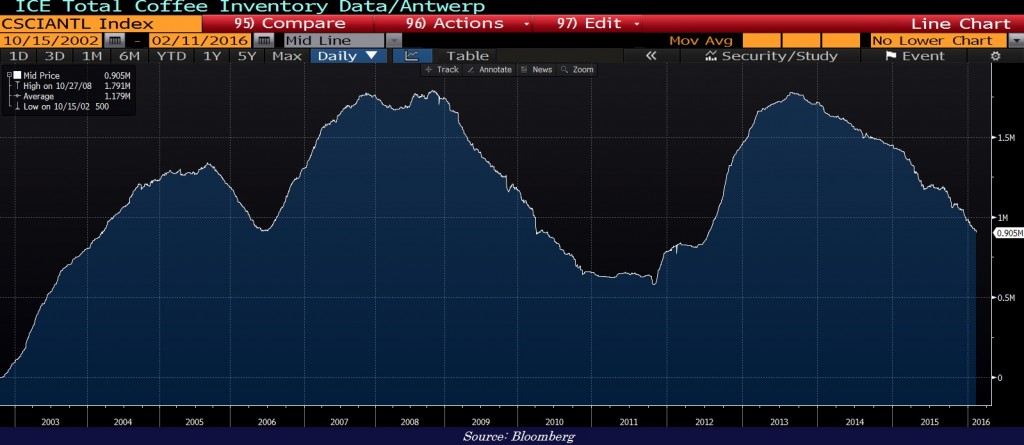 It's important to mention that inventories are -48% down from their peak reached in late 2008 and late 2013, while NY prices (KCH16 / March 2016) are just +10% above the average price reached on the same periods ($1.05) for KCH09 (March 2009) and KCH14 (March 2014) contracts.
Let's talk about currency impact:
Since third quarter of 2014, US Dollar has revaluated about 91% and 86% against Brazilian Real and Colombian Peso, respectively. Given that these 2 countries are the largest Arabica Coffee producers, the impact of their currency movements is a substantial factor for the New York coffee prices.
That is because a weakening local currency against the US Dollar means a higher local coffee price, so the short-term bearish impact is increasing selling by producers and exports, and the long-term bearish impact is the potential for boosting production.
When Colombian Peso and Brazilian Real bottom out (which in my opinion, could take place from here to early March) there will be no reason for the actual low coffee prices.
And about high 2016-2017 crop expectations, FNC has already lowered their 2016 Colombian coffee crop estimate from 14.2 to 13 Million bags.
Cesar Osorio, our Crop Analyst, Agronomic Engineer and certified Q-Grader with +30-year experience in the cash coffee industry, believes that estimate will be lowered at least another 1 Million, but the higher impact will be when fulfilling "C" deriverable contract commitments.
Fortunately, high altitude producing regions, in which Specialty Coffee is grown by our partners, "Laderas del Tapias – Estate Coffee" will be the most resistant to climate changes.
Kind regards,
Andres Agredo,
President & Founder
Seguridad Financiera SAS / Commodity Trading Advisor, NFA Member.