Warning: Drought Causes Damage to Coffee Crop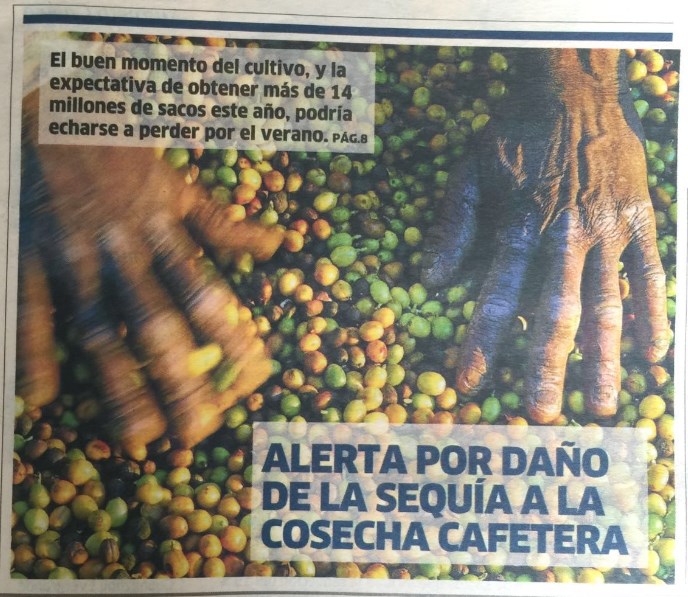 In our last update, we mentioned that the quality of the 2016 crop was being seriously affected due to the El Niño. Although the quantity seemed still high, the quality was low because normal "broca" levels should be under 2% but right now are 5%-10% and could reach 25%;  normal "pasilla" levels should be under 4%, but right now are 10%-15% and could reach 20%.
Low quality of the crop finally translates into less quantity because of the poor yield (you need more kilograms of pergamin coffee to get the same 70 kilograms-bag of excelso coffee).
All of the coffee growers and exporters entrepreneurs we know agree that due to the intense summer, the quality of the coffee is low, which means less quantity of "C" contract stocks. The heat is really strong. There were even a river here that dried up completely… One coffee grower that sells to Nespresso told us that last week for the first time he got paid below the base price, because the coffee was "veraneado", which is a term in spanish and means that the coffee has a high level of "broca" and "pasilla" and thus, there is less quantity of "excelso" or exportable coffee.
Well, by these days newspapers and the market seem finally being acknowledging that "2016 super record crop estimate" was only an announcement that mistimed the impact of the intense summer that affects Colombia and even Brazil last year.
This is why we believe that these market inefficiencies can be exploited with specialized commodity knowledge and internal information sources, which can provide a more accurate market insight than public sources.
And even though fundamentals can be incorrectly priced by market forces for a while, those ultimately will drive price discovery for commodity markets.
Fortunately, our offices are always provided with a 93-points-Coffee Review's rated "Castillo" and "Caturra" Specialty Coffees produced by our partners, "Laderas del Tapias". Please don't be envious 🙂
Cheers,
Andres Agredo,
President & Founder
Seguridad Financiera SAS / Commodity Trading Advisor, NFA Member.